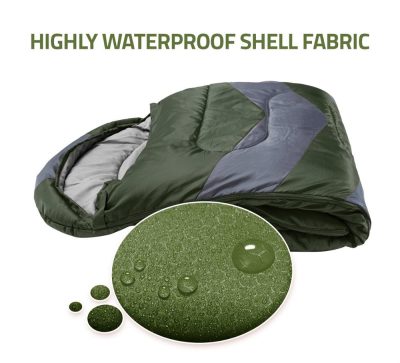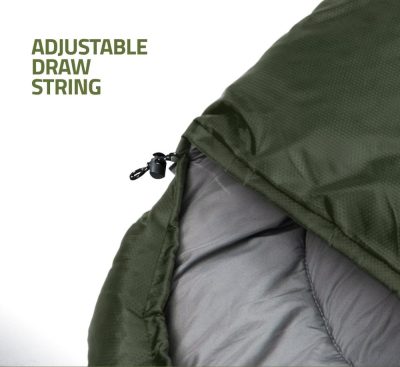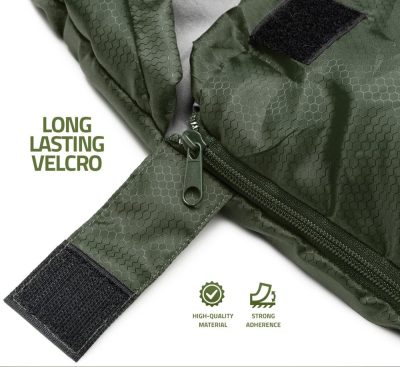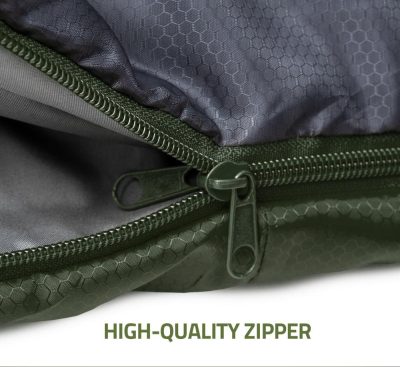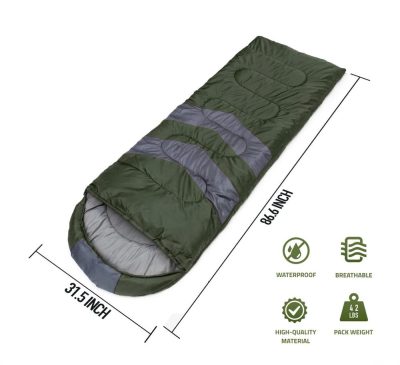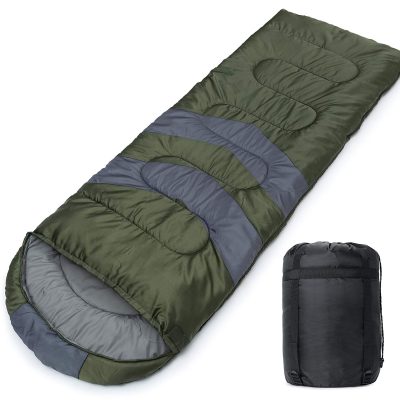 | | |
| --- | --- |
| Product Name | Sleeping Bag |
| Filling | 100% hollow fiber |
| Size | 210X65X185cm |
| Net weight | 1600g |
| Chemical standard | REACH conformed, AZO free, low cadmium |
| Certification | SGS, BSCI, Factory Audit |
| MOQ | 6 pcs |
| Sample time | 10days |
| Lead time | 50days |
| Productivity | 20000–50000pcs/month |
| Custom logo | Favourably receive |
Down sleeping bag, its advantage is easy to squeeze, make the sleeping bag volume becomes smaller, easy to carry, open the compressed sleeping bag can remain intact. It is also warm and has a long life.  If not in the cold area, just spring, summer, autumn, three seasons to use, choose cotton sleeping bags can be affordable, warm effect is enough to use. You can also choose a low down sleeping bag.  A small bag is easy to carry, and a light bag can reduce weight. The function of the sleeping bag is to keep the heat loss as little as possible, and the body inside the sleeping bag constantly generates heat to keep warm. Different individuals and situations generate different heat. All sleeping bag temperature scale systems are based on a standard human body, but such a standard human body almost does not exist.
In order to establish a temperature rating, commercial prototypes of sleeping bags are tested outdoors by people who spend a lot of time outdoors, such as soldiers and mountain guides, for several weeks and then provide the manufacturer with opinions on comfort and limit temperatures. Before compressing the bag, turn the inside inside out and expose it to the sun. Make sure the inner layer is dry, return to the normal side, roll it up to squeeze the air out of the bag, then unroll it and tuck it into the bag from one end. To compress the average, rotate the bag as you tuck it in and apply pressure with your knees. In humid conditions, plastic waterproof bags should be added to doggie bags. As for the storage of down sleeping bags, compression is not a good idea, because down sleeping bags need to breathe. The best way to store a down sleeping bag is to choose a wide, air-tight storage bag,
Leave it in a fluffy state. Down products should not be wet, should be placed in a dry and ventilated place, after use as far as possible in the sun, blow the wind, to keep the sleeping bag dry and fluffy.