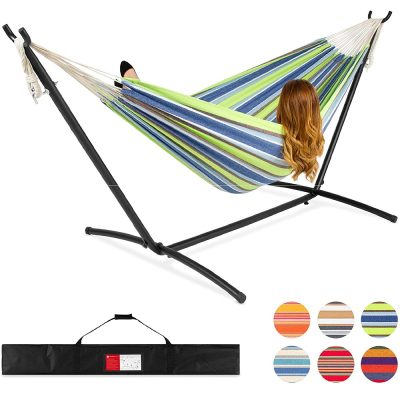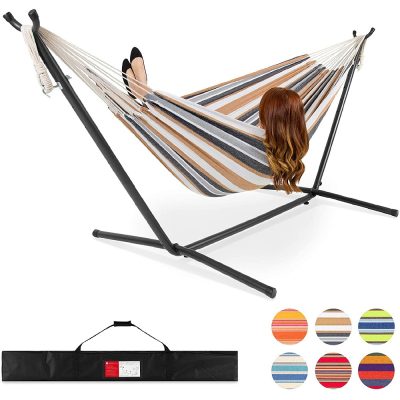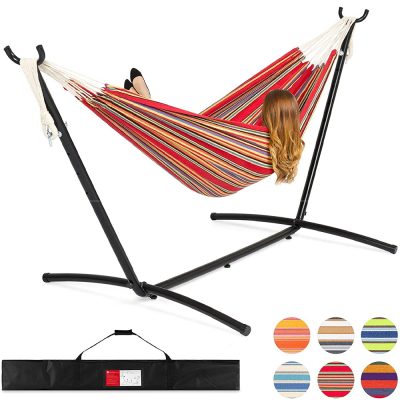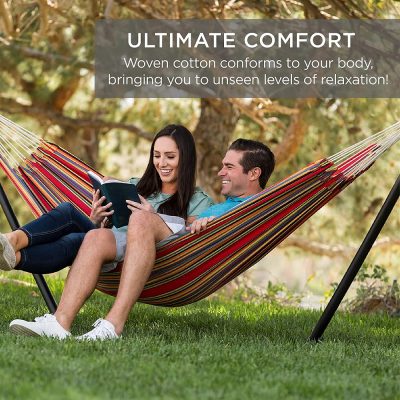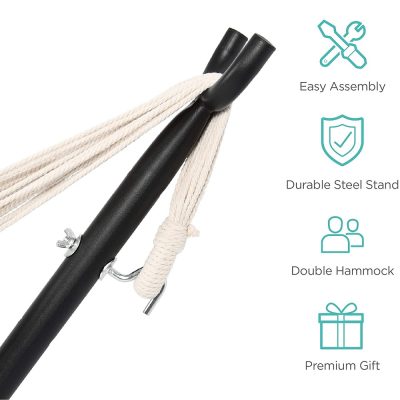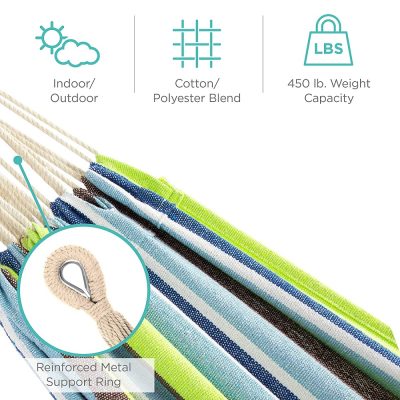 | | |
| --- | --- |
| Item name | Camping Hammock |
| Material | 210T/70D parachute nylon |
| Size | 300*220 cm |
| Weight | 1.8kg |
| Sample lead time | 2-3 working days |
| Color | Customized |
| MOQ | 2 |
| Packing | polybag for each unit,then packaged by carton |
| Accessories | 2 tree straps,2 carabiners,one carry bag |
| OEM | support |
There are generally three types of hammock fabrics: cotton, mesh, and polyester. Cotton is a traditional material used to make hammocks and is also more comfortable to use. The biggest advantage of a mesh hammock is that it is ventilated, breathable, and quick-drying, making it ideal for use at the beach or by the pool. The advantages of polyester fibers are that they are lightweight, quick-drying, easy to clean, very durable and fade-resistant, and are the most commonly used hammock material today. When choosing a hammock, you should not only consider the material and comfort of the hammock, but also its functionality. What is the function? That is the function of anti-mosquito and anti-rollover function. We all know that when we are outdoors, there are a lot of mosquitoes, especially mosquitoes. These little guys will directly affect our sleep quality, and the current hammock already has The function of anti-mosquito is achieved by the function of mesh. Of course, some hammocks do not have this function. The price of hammocks without mesh is generally lower, and the price of hammocks with mesh is relatively high,
Prepare an appropriately sized piece of gauze and place the yarn on one end of the camper's head in the same way as the film. Use clothespins to clamp the gauze to the hammock to prevent mosquitoes from biting the head. Use the cotton sliver soaked in the liquid of the hammock to make a circle and tie it to the rope at both ends of the hammock, or spray the hammock directly on the upper and lower ends of the rope of the hammock on the trunk to prevent ants, spiders, centipedes and other insects from crawling. into the hammock. Most hammocks include straps of sufficient strength. For the sake of the environment, it is recommended that you choose a flatter and wider construction, and use a cross-wound method that takes up more area to prevent the straps from being too thin and digging into the tree. . Generally, the straps that come with a good hammock are flat straps.