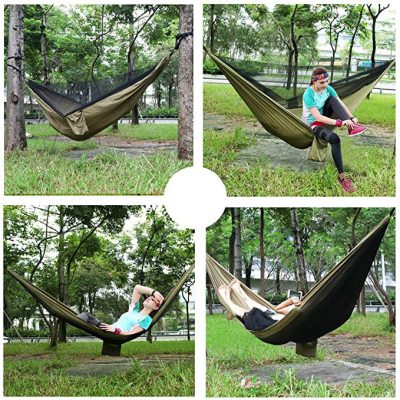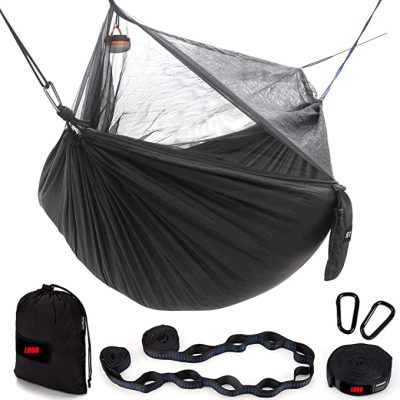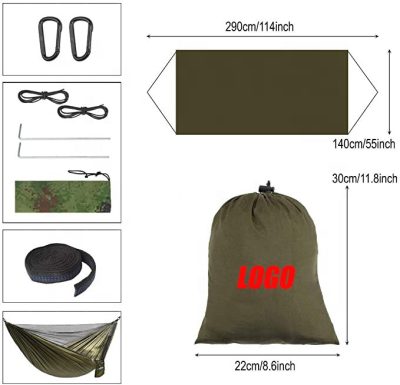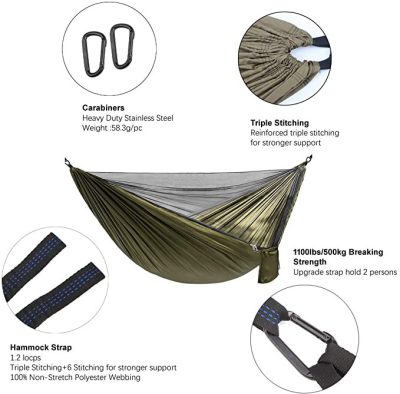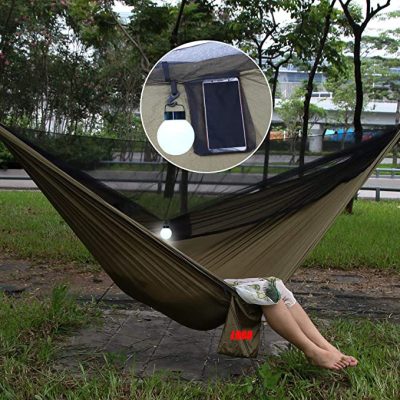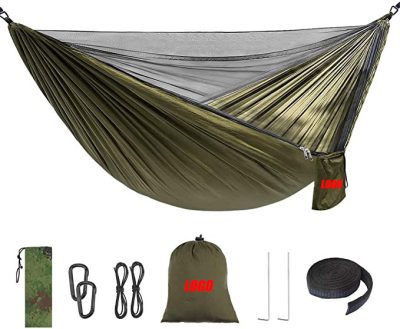 | | |
| --- | --- |
| Product name | Camping Hammock |
| Size | 2.2*1.9m |
| Color | Green, Blue, Grey, Others |
| Material | 80% Polyester, 20% Cotton |
| Weight | 1.95kgs |
| MOQ | 6 |
| UV-resistant | 12-24 Months |
| Custom Design | Accepted |
| Packing | Poly Bag, Pouch Bag, Others |
| Warranty | 2-year |
A hammock is a lightweight and easy-to-carry bedding for field activities, usually tethered to a tree with the material from which the hammock is made. According to the material of manufacture, it is divided into cloth hammocks and rope net hammocks. Cloth hammocks are usually sewn from thin canvas or nylon, and rope net hammocks are usually woven from cotton or nylon rope. Rope net hammocks are especially suitable in tropical jungles and hot summers, while cloth hammocks are more widely used and can be used in other seasons except in severe cold areas and winter. Hammocks are mainly used as sleeping tools for people traveling or leisure time. If there are trees in your camp, you can bring a special hammock for overnight use. . And ask that the weather conditions allow you to use it (no wind, no rain). Generally, the hammocks carried by camping are only used to increase the fun, and the hammocks used in field camping and park leisure camping are different in weight, material, tear resistance and fixing method. There is also the need to bring tree protection pads. After all, we are going for leisure sports, not to harm nature.
Hammocks are generally divided into single hammocks and double hammocks. Double hammocks are more spacious, more comfortable, and have more space to use. Regarding the length of the hammock, the length of the hammock is basically fixed, basically about 2 meters, neither too long nor too short, basically can meet the needs of most people, if your height is relatively high , then when choosing a hammock, be sure to choose a hammock that is at least 6cm longer than your height. Let's talk about the use. If it is mainly for hiking or hiking, then weight is a more important factor, so I suggest you choose a lighter hammock. If you are mainly self-driving, then the first consideration is comfort, and weight can be ignored. In addition to carrying a larger hammock, you can also carry a hammock with a stand. If you have your own stand, then you don't have to look for it. With two big trees, you can build a hammock wherever you want.