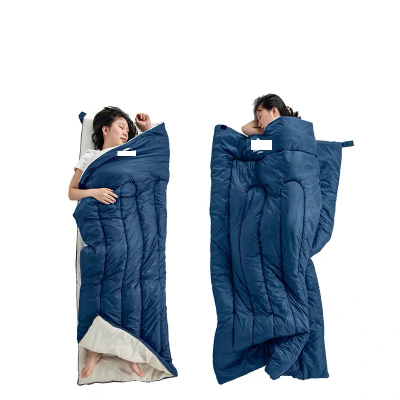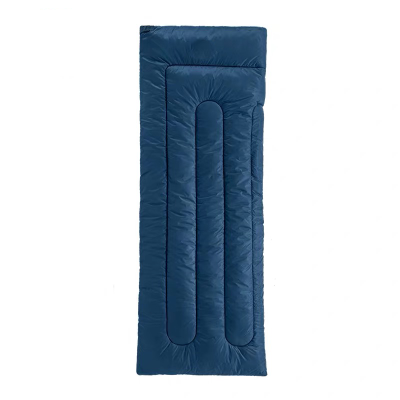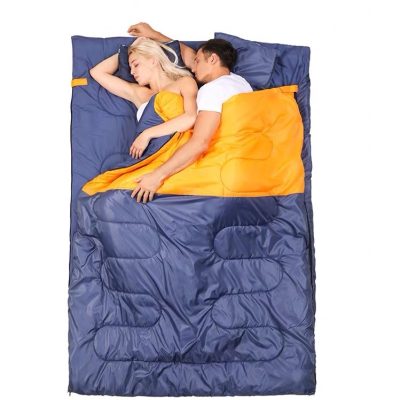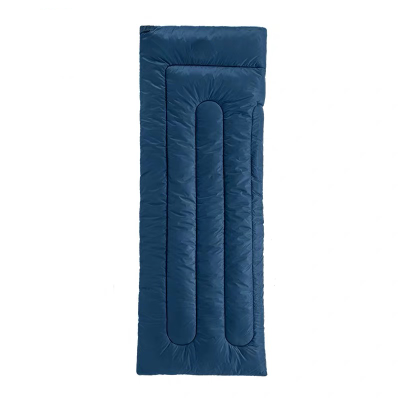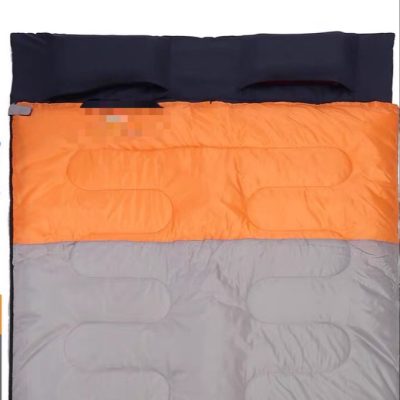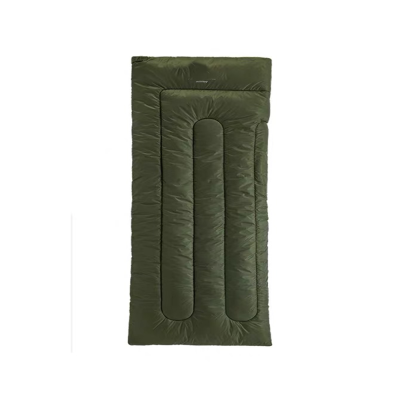 | | |
| --- | --- |
| Product Name |  Double Sleeping Bag |
| Usage |  Outdoor Camping Hiking Travelling |
| Filling |  Cotton |
| Inner Material |  Polyester Fleece |
| weight |  2.9kg |
| Size | 185* 210 cm |
| MOQ | 3 |
| OEM |  Welcome |
| Sample Time |  7 days after deatails comnfirmed |
| Delivery Time |  30 days after prepayment received based on the customized sample is confirmed |
The function of the sleeping bag is to keep the heat loss as little as possible, and the body inside the sleeping bag constantly generates heat to keep warm. Different individuals and situations generate different heat. All sleeping bag temperature scale systems are based on a standard human body, but such a standard human body almost does not exist. A sleeping human body has about 75 to 100 watts of thermal power, which translates to about 47 to 55 watts per square meter of human surface area. Energy produced by metabolism is complex, depending on age, sex and even the amount of fat in the body, but in general, a healthy young man produces far more body heat than an older man or woman. Perception of the cold is related to age and experience, with novice climbers generally feeling colder than experienced climbers.  Down mainly has 3 performance indicators: the first indicator is the filling weight, such as 400 grams of goose down sleeping bag, 1100 grams of eiderdown sleeping bag, this weight does not refer to the sleeping bag weight, but refers to the net weight of filled down; The second indicator is down content. Down is made up of feather and feather. Feather supports, and warmth comes mainly from fine feather. The lint content is expressed as a percentage.
There are two ways to label a sleeping bag. One is to label an absolute temperature, such as -10 degrees, indicating that the sleeping bag's comfortable temperature is -10 degrees. One is to label the temperature range from red to green or blue, such as red starting at 5 degrees, light green at 0 degrees and dark green at -5 degrees. This temperature means: 5 degrees warmer, 0 degrees more comfortable, -5 degrees more cold, and this bag's comfortable low temperature is 0 degrees. It should be noted that comfortable low temperature is only a relative concept, sleeping bag products have no industry association, there is no industry standard, there is no domestic, there is no foreign, some big brands and research institutions according to laboratory tests and field experience, for their products calibration of comfortable low temperature. This temperature is reference only, it will vary from person to person, according to the environment. Generally speaking, sleeping bags made in Europe and the United States are not suitable for Asians on the temperature scale, because Europeans have higher cold resistance than Asians, so we should pay special attention to the selection.